World-Renowned Artist Officially Opens Teesside Autistic School
Children and staff from a school for autistic children in Middlesbrough celebrated the official opening of the school recently to coincide with World Autism Acceptance Week.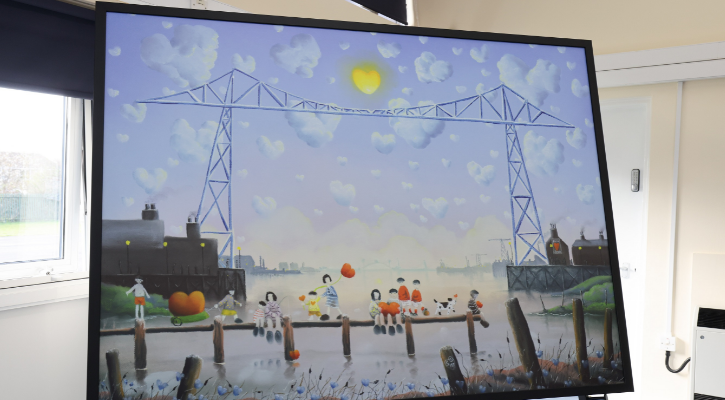 The 'Welcome to My World' painting which was unveiled by Mackenzie Thorpe during the official opening of the Mackenzie Thorpe Centre.
The Mackenzie Thorpe Centre is the North East Autism Society's (NEAS) newest school at South Bank and provides care and support for up to 30 children aged 5 to 19.
The school opened its doors in September 2020 and welcomed its first cohort of students but due to Covid and lockdowns, NEAS, in partnership with Redcar Borough Council, decided to wait until restrictions eased before organising an official opening.
World-renowned artist Mackenzie Thorpe, who the school is named after and is also a proud patron of NEAS, officially opened the school in front of children, parents, staff and other special guests.
Mackenzie Thorpe, originally from Middlesbrough, is renowned for his art in galleries all over the world, unveiled a special piece commissioned especially for the opening entitled, 'Welcome to My World'. The painting, which features the famous Transporter Bridge, will be displayed in the school and children also got involved by burying a time capsule in the school grounds which included face masks and hand sanitizer so those digging it up in years to come will learn about what it was like to live in 2022.
Lawyers from Ward Hadaway's Built Environment Team facilitated a five-year lease for NEAS from Redcar Borough Council, who has also made a significant capital investment into the school.
The Mackenzie Thorpe Centre is the latest transaction Ward Hadaway has delivered for client NEAS. The completion follows the repurposing of Kiora Hall – a historic Edwardian Building on Ragpath Lane in Norton last year. This transaction included facilitating a 25-year lease with Stockton-on-Tees Borough Council.
Katy Milner, Managing Associate in Ward Hadaway's Built Environment Team in Newcastle, said: "I was delighted to have been invited to attend the official opening of this wonderful new school and to meet the incredible children and staff and celebrate their achievements over the last twelve months.
"It was disappointing that Covid prevented the school from an official opening back in 2020, but having the inspiring and talented Mackenzie Thorpe to carry out the official honours, listening to his touching address and seeing the smiles on everybody's faces made it all worthwhile.
"I am delighted that Ward Hadaway was able to play a big role in supporting NEAS to secure the lease on this building and help them achieve their vision. I wish them every success for the future and look forward to working with them on more exciting projects."
John Phillipson, Chief Executive of NEAS, said: "In less than two years we have been able to open two schools on Teesside, which will go a long way in supporting families of autistic children and young people – although there is still more to be done to make education more accessible for neurodivergent children across the region.
"The official opening of the Mackenzie Thorpe Centre not only gave us a chance to celebrate our new school, but also to thank our partners, including Ward Hadaway, whose support and expertise is essential to the development and success of new services."