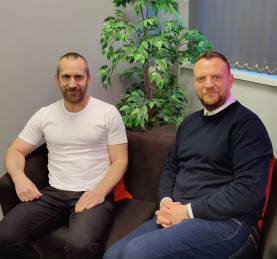 A CHANCE MEETING
A chance meeting at a networking event was the catalyst for Graeme Coyle to start Seller Presto, a niche full-service business focusing on growing revenue for brands on Amazon.
After spending three years as Head of Marketing with online retailer Andrew James, where Amazon was the biggest channel, followed by a spell as a shareholding in a similar business, Graeme decided to go it alone.
"At that point I owned part of the business but felt like I was doing most of the work, so I sold up. I was planning to start a similar business on my own when I bumped into someone at an event who needed support with their Amazon store.
"That led to a small contract, and it really backed up my gut feeling that there was a gap in the market for specialist expert support in this area. That chance meeting and the start of the global pandemic really accelerated everything, and we now focus solely on helping retailers to grow revenues through their Amazon store.
"I shelved the other business idea and focused on Seller Presto full time, gaining 10-15 clients within a few months, and employing our first full time member of staff.
"We work with brands across the UK, EU, US to unlock their growth potential on Amazon. Clients we are currently working with include TJ Hughes, Nimble Babies and The Beard King and we've just recently taken on our second full time employee."
Graeme joined the Entrepreneurs' Forum in 2021 and immediately sought to tap into the mentoring programme.
"Although we'd had success, I felt like I was winging it to some extent. I didn't have any experience of running a business and felt like I needed some guidance in many areas, such as the setting the strategy of the business and how to build future growth plans."
During the matching process all Forum mentees go through, one option suggested was Steven Parker, someone Graeme already knew. 
Steven started, scaled and exited Digital Allies before launching consultancy firm Causal Effect and is also involved in specialist growth consultancy IA Growth alongside fellow Forum members Graham Sleep and Andy Briggs.
Steven said, "Even though we already knew each other, I didn't realise that Graeme was looking for support and he didn't know I was available. The Entrepreneurs' Forum was the conduit that put us in touch and having tapped into the experience of others when I was growing my first business, I was keen to make sure he in turn benefited from mine.
"I faced many challenges that I never imagined when building Digital Allies and sharing how to navigate them, whilst being a sounding board to Graeme is really important to me.
"We speak about all of the headaches he's about to face that I've now left behind!"
Both Steven and Graeme agree that working on business strategy has been pivotal to the success of both the mentoring relationship and the continued growth of the business.
For Graeme this has given him much greater clarity about the future growth of the business. "I wasn't sure what to expect when we first sat down together, but very quickly we went through the business plan and Steven's input has been invaluable in helping to identify lots of things I hadn't even thought about. Things that don't necessarily drive revenue, but you need to have in place as a solid foundation from which to build upon.
"We now have a business development plan which is aligned to the marketing plan. That feeds into the HR strategy and it's all underpinned by considered financial management. I now have a better understanding of the challenge that's in front of me."
Following the initial mentoring sessions, the two have remained in contact and Graeme acknowledges the impact Steven's experience has brought to the business with a final observation.
"Steven has been at the other end of the phone to speak to on a regular basis since we met, which has been incredibly reassuring and was particularly helpful when it came to contract negotiations. His input was extremely helpful when it came to a big deal that we won recently. Our offer was good but having that experience to call on just gave us the edge which meant we were successful in the contract win."