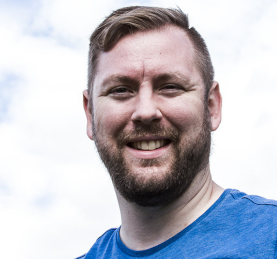 Finding a Mentor While Growing Your Business
Founded in 2012, by Anthony O'Neill, Gateshead-based The TV Agency have built an impressive reputation as the leading TV buying agency in the North East, and one of the largest independent TV agencies in the UK.
To meet increased demand, the company opened a dedicated production agency – TVA Production – in 2018, to offer full-service production from screenwriting to filming.
Previously relying on third party client management software, with the mark of the agency's continued growth, founder Anthony O'Neill sought to design and develop an in-house software solution which would easily track and measure his client's return-on-investment.
But understanding that even the smallest business mistake can have costly consequences, Anthony sought an experienced business mentor who he could turn to for advice and guidance as he continued to develop the bespoke software.
"Getting advice from someone who was already successful in the software development space, and who had no agenda but to offer advice and support, was very important," Anthony explains.
With a mutual interest in software development, the Entrepreneurs' Forum connected Anthony with Steve Pearson, managing director of Phusion IM, during one of the regular mentoring drop-in sessions hosted by the Forum.
Founded in 1992, Phusion IM is an international engineering software company which has provided data management services and software for some of the world's largest engineering products and blue-chip companies.
A former control engineer, Steve holds over 45 years of engineering experience and, combined with his passion for innovative technology, had the blend of industry experience and expert knowledge Anthony sought in a mentor.
"Having advice from someone who's been there and done it before is invaluable as they can often help you to avoid common or costly mistakes," Anthony says, adding, "It's also enjoyable being able to collaborate with people you would find difficult to meet in normal business settings."
Following the introductory mentoring drop-in session organised by the Forum, Anthony and Steve continued to meet for confidential and informal mentoring sessions.
Whilst considering how the software would be built, Anthony also worked with the Phusion IM team to explore the different technology available that would work best for software.
"For me, it was great being able to speak openly with an industry expert and get feedback on my ideas and how to implement them, as well as that ongoing support and guidance," Anthony adds.
On reflection of the mentoring connection, and of Steve's ongoing support, Anthony says, "My hope was that I'd made a good industry contact who I could ask for advice when working on developing our software further.
"Steve is a fantastic mentor and is someone who I will keep working and speaking with. None of this would have happened without the introduction through the Entrepreneurs' Forum."
Access to peer-to-peer mentoring support is part of Entrepreneurs' Forum membership and includes confidential one-to-one connections, round table discussions and mentoring drop-in surgeries.