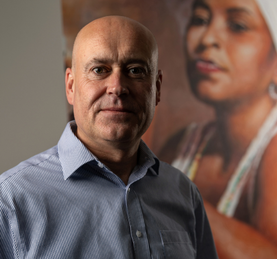 Powering Through the Unknown with Help From a Mentor
In a marketplace that's more crowded than ever before, today's brands need to shout louder and accomplish more if they're going to capture the attention of their target market – and no one knows that better than James Allen, founder of Guerilla.
An economics and marketing graduate and experienced account director, James founded Guerilla in 2002 with an overarching goal: to build a result focused, marketing communications agency which blended creativity and strategic thinking.
The idea was revolutionary.
In the early noughties, while most regional marketing agencies would work either 'above the line' for creative campaigns or 'below the line' in branding and design, James wanted to do both.
Refusing to limit himself to these boundaries, and viewing both as important aspects of communication, James launched 'media neutral brand communications' agency Guerilla.
The term meant Guerilla were a fully integrated agency, communicating through multiple channels from brand strategy, advertising, and PR strategies - and they did it all in-house with a remarkably small but focused team.
In the years since, Guerilla has grown steadily, becoming an award-winning agency delivering 'clear thinking' and 'real results' to their portfolio of clients.
Things were looking optimistic for the company with the team celebrating multiple client wins, awards, and ambitious future plans at the end of 2019.
But in early 2020 the national lockdown saw the majority of Guerilla's closely knit team abruptly forced to operate remotely and James working from the office alone.
Struggling to see the wood for the trees, James requested support through the Forum's mentoring programme and was connected to Lianne Walker MBE, former managing director of Walker Filtration.
James recalls, "I spoke to Lianne at the beginning of the first lockdown, when I was holding the fort and in the office on my own. I think it was fair to say that at the time I was feeling at a particularly low ebb and I was very worried about how the business would perform.
"Fortunately, Lianne called me and it was just the tonic that I needed! Lianne was very reassuring, telling me that I was doing everything possible to protect the business to look after our employees and clients.
"She really fired me up by passionately reminding me about the Guerilla ethos of never giving in and fighting on.
"Lianne also calmly took me through the immediate focus of what was required to run a business during these challenging times and she outlined some additional measures that I could put in place.  She was great because she not only shared some great practical advice, she also provided me with the inspiration, warmth and passion that made it clear that I was not alone."
After speaking to Lianne, and reopening Guerilla's offices, James was looking to the future, and in particular, how he can achieve the business' impressive growth ambitions.
In addition to joining the Forum's 2021 Scale-up Leader's Academy, where he would work with members and business coach Ian Kinnery to develop a blueprint for business success, he also started having regular chats with experienced entrepreneur Bill Scott OBE.
Bill founded Wilton Engineering in 1994, using the lessons learned throughout his apprenticeship and senior management positions to shape its growth.
Today Wilton has become the 'go-to company' for world-class fabrications - it was his knowledge of successfully scaling a business and his business expertise that he was able to share with James.
"Putting aside the huge amount of experience, knowledge and ability he possesses, within a minute of sitting down with Bill I realised just how much confidence and positivity he has," said James.
He continued, "As a mentee, you feel elevated with each piece of know-how and advice he feeds into your discussions because of the passion and interest he shows in your business.
"Add that to the confidence and positivity he naturally instils gives you a huge amount of encouragement and belief that you can achieve whatever it is you want to achieve."
Having found incredible value in speaking to experienced entrepreneurs within the Forum, James encourages other members to get involved with the programme.
For now, having graduated from the Scale-up Leader's Academy this summer, James is already seeing that Guerilla go from strength to strength, and he is applying the knowledge shared throughout his mentoring to build a stronger and sustainable business.