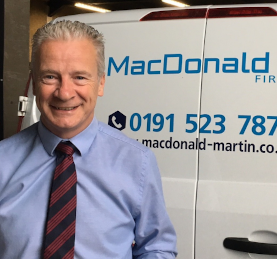 Reaching Your Goals with Help from a Mentor
Andy Trafford readily admits that the mentoring he has received through the Entrepreneurs' Forum has been crucial in helping him take Sunderland-based McDonald Martin Ltd to the next level.
Fire has always played a central role in Andy Trafford's life and career and was the inspiration that led him to found McDonald Martin Ltd.
Weeks after leaving school in 1980 he joined the Royal Air Force where he trained as a firefighter and has served as far afield as Germany and the Falklands.
"Life in the RAF really does prepare you for all eventualities, often involving life and death situations, and the training I received ensured I was always able to make the right decision," he said.
On leaving the service, he spent a brief spell as an offshore safety instructor before joining Northumberland Fire & Rescue Service, later transferring to Tyne & Wear Fire and Rescue Service which saw him based in Gateshead and then Sunderland, where he reached the rank of Station Officer.
It was there that he realised that he wanted to set up his own business with wife Jackie, initially providing fire risk assessments.
Eighteen years later and the fire safety expert, which employs 35 people, has grown exponentially, last year achieving a turnover of £2.1 million.
Having conducted over 15,0000 fire risk assessments, it offers a nationwide fire safety protection package, including fire alarms, emergency lighting, extinguishers, suppression systems and dry risers delivered by a team of experienced assessors and engineers.
It is also a NICEIC accredited electrical contractor, offering electric vehicle charging point installation and maintenance, PAT testing, fixed wire testing and installation of emergency and LED lighting.
The business also provide CCTV, door access and intruder alarm installation and maintenance.
McDonald Martin Ltd has gained an excellent reputation within the housing and construction sector and counts Tolent Construction, Newcastle, Sunderland and Sheffield councils, Luxury Leisure, Gentoo and McCarthy and Stone among its clients.
The business is always seeking to develop new opportunities and is currently expanding its range of services, including the installation of EV charging points, which it has identified as a major area of growth.
It is currently preparing, post-Grenfell, to develop its passive fire protection services – capable of containing or slowing the spread of a fire within a building.
Andy said, "I'm proud to have grown this company to its current position. It's fair to say this might have taken much longer or may not have happened at all without the support and guidance I've received from the various mentoring services provided by the Entrepreneurs' Forum."
He joined the Forum in 2016 after it was recommended to him by a former member.
"From day one I loved it and do so to this day. I initially attended several member events, listening to successful businesspeople who kindly allowed me to learn from their hard-earned experiences.
"I was always amazed to find that these people, some of whom headed multi-million-pound businesses, had made some of the same mistakes that I had – but were not afraid to admit it!"
As well taking up the offer of free mentoring sessions, he has also benefitted from the guidance of professional business coach Ian Kinnery, one of just four Gazelles International Coaches in the UK.
He recalls, "I met Ian at one of the Forum's events and worked closely with him for 15 months and am about to re-engage with him for a further three-months.
"I find the best thing about Ian is that he is not just about handing out advice but is prepared to listen. He learns about you and your business and the barriers preventing you from achieving your objectives.
"He provides a valuable outside perspective and while he does produce some fantastic ideas, he helps you to focus on the problem so that you can produce your own solution.
"MacDonald Martin reached a certain size almost by default. None of us are businesspeople or come from a business background and we only got as far as we did through sheer common sense.
"The company then reached a point where something extra was required– and that proved to be the Entrepreneurs' Forum and Ian Kinnery.
"My whole career has been based on the principles of training and risk assessment, which makes obvious sense when it comes to fire.
"But I've come to realise this also applies to business. Mentoring has provided me with expert but impartial advice, encouraged me to overcome problems and most of all allowed me to achieve my business goals."