Business leaders call for action at Entrepreneurs' Forum Chairman's Dinner to make positive changes to combat climate change.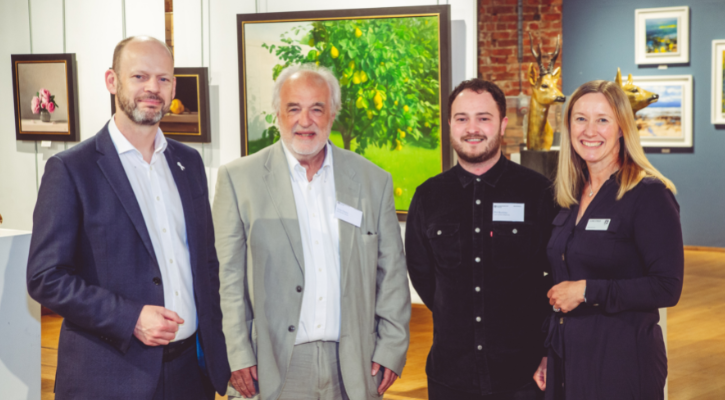 With greenhouse gas emissions, the main contributor to global warming, at their highest level in two million years, members of the Entrepreneurs' Forum have come together to step up to the climate challenge.
At their Annual Chairman's Dinner at The Biscuit Factory in Newcastle, leading entrepreneurs from the region highlighted the importance of each and every business in the region contributing to the UK's target of achieving net carbon zero by 2050.
Chair of the Entrepreneurs' Forum, James Robson MBE commented, "We can't ignore climate change. It's time for us to take action.
"Building a sustainable organisation doesn't need to come at the expense of success and we need to challenge ourselves to look at how striving for sustainability can positively contribute to our company goals."
The North East is home to many businesses already committed to making a positive impact on the environment. The event offered the opportunity to hear from two founders who are leading lights in the region, taking sustainability to the next level.
Low Carbon Materials co-founder and one of only 2 UK-based Earthshot Prize finalists in 2022, Phil Buckley and his team are helping to reduce the carbon footprint of the construction industry by developing carbon negative and carbon zero materials. His passion for building a better future is very clear.
"Sustainability needs to be something you want to do, not something you have to do to complete a checklist." He continued, "At Low Carbon Materials, sustainability is at the heart of everything we do."
The entrepreneur also emphasised the importance of collaboration. "If we are to make a difference on net zero, industries need to come together to solve the issue for everyone and not just for the good of their own individual goals."
Tony Cleary MBE, Founder and CEO of Lanchester Group has taken the bull by the horns and made significant investment at the company's contract bottling site at Greencroft, County Durham, taking real action to achieve their commitment of becoming carbon minus. The business is reaping the rewards from their 'green' investments, putting numerous contract wins down to their sustainable credentials. Tony urges others to start taking steps to protect the environment now. "Without a doubt, sustainability is where the future is, so you need to get going with it." He added "Starting your journey early will lead to massive business advantages in the future, with customers and employees choosing those businesses who have built their sustainable credibility. And, it also makes commercial sense, particularly when you consider factors such as the high cost of energy."
The importance to the region is clear.  Elected Metro Mayor for the North of Tyne, Jamie Driscoll, said: "The climate emergency isn't a future threat; it's a crisis that's right here, right now. So it was heartening to hear how entrepreneurs are rallying together. I'd urge every business in the region to follow suit. That's why we set up the Green New Deal fund, to help small and medium sized enterprises to do their bit. No-one can do everything, but everyone can do something."