LDC, the private equity investor which is part of Lloyds Banking Group, is the latest organisation to become a Corporate Partner of the North East-based Entrepreneurs' Forum.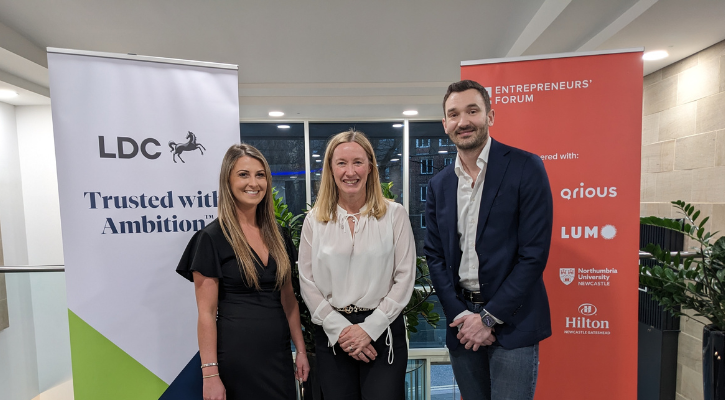 Corporate Partners play a vital role in the Entrepreneurs' Forum, bringing their specialist skills to support and inspire over 300 business leaders who make up the Forum's community.
Elaine Stroud, CEO, Entrepreneurs' Forum commented: "The addition of LDC as one of our partners brings with it a fantastic opportunity for our members to connect with an organisation which is committed to supporting businesses achieve their growth plans."
She continued: "Our ambition is to make the North East the best region to be an entrepreneur and by joining forces with organisations such as LDC, we are paving the way to achieving that goal.
"It's important that our partners understand our vision and are aligned with our values, so we are delighted to welcome LDC to the Entrepreneurs' Forum and we're looking forward to seeing the impact this collaboration will have on our members and the wider community here in the North East."
Aaron Lawson-Clark, Investment Director, LDC's North East & Scotland team, said: "The Entrepreneurs' Forum is a brilliant organisation. It brings together business leaders from every corner of the region so they can share their experiences, learn from and inspire one another, and creating this network of support really aligns with our own work at LDC.
"We've been supporting ambitious management teams in the North East for more than 15 years, and they've trusted us to help them grow their businesses in their way. This is something we're committed to continuing and I'm looking forward to working with the Entrepreneurs' Forum team to understand how we can help its members to realise their own ambitions."
LDC joins existing Entrepreneurs' Forum Corporate Partners Agilico, RBC Brewin Dolphin, Guerilla, Hilton Newcastle Gateshead, Lumo, Northumbria University, Qrious and Ward Hadaway in supporting the region's entrepreneurs.