CSR projects are extremely important to Darlington based digital marketing agency, White Digital. They are in a fortunate position to be able to get behind community projects and donate time, skills or money for the greater good.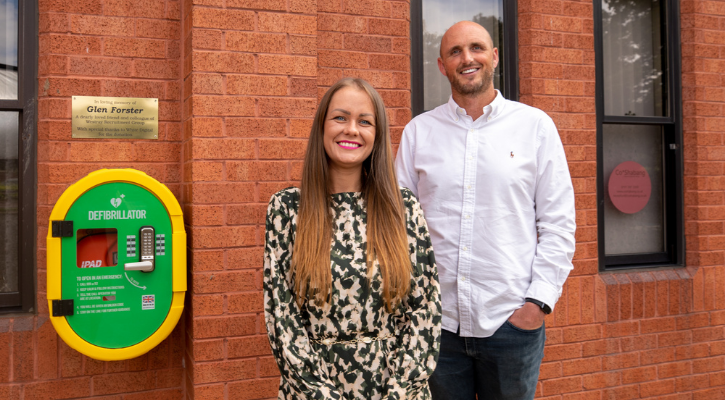 Recently the digital marketing agency has partnered up with a Team Valley based recruitment firm, Westray Recruitment. The agency was exploring the idea of placing a defibrillator outside their town centre office, but quickly discovered that there were already three community defibrillators within the required 200-metre vicinity of their offices. 
It was important to Managing Director, Douglas Dinwiddie, that his office space was as safe as possible to all his staff and anyone visiting the premises. Once it was discovered that a community defibrillator was not needed in the area, the company reached out to their network to see if they could donate it to another office space. 
Having posted on LinkedIn, marketing manager Chloe Page, soon received a message from Ashleigh Wright, director of Westray Recruitment, who explained how her colleague Glen had tragically died on site in 2018 from a cardiac arrest. Together the two companies saw the life saving piece of equipment as a way to honour the memory of a very special man. 
After much collaboration between White Digital, Westray and the North East Ambulance Service, the defibrillator now sits proudly on the outside of Westray office wall for employees, visitors to the office and the local community to use in case of a cardiac arrest. 
"If you are ever in a position of having someone close to you suffer from a cardiac arrest, it is likely that the 999 operator will inform you if there is a defibrillator within 200m of your location. They will direct you to where you need to locate it and give you instructions on how to collect it from the security box" explained Chloe.
"The great thing about defibrillators is that you don't need to be trained in how to use them, the machine will instruct you on what you need to do and you'll also have the support of the 999 operator until an ambulance arrives. The machine is able to detect whether the patient needs treatment, so you can't deliver a shock accidentally."
"Having a defibrillator close to you can make all the difference. For every minute it takes for a patient to receive the treatment of a defibrillator, their chances of survival reduces by 10 per cent." 
While both the teams hope that the community defibrillator never needs to be used, they are immensely proud to have placed a life saving piece of equipment in the extremely busy industrial estate and most importantly, in memory of Glen.