FiberLean Technologies, a leading global innovator and producer of sustainable Micro Fibrillated Cellulose (MFC) solutions, has teamed up with award-winning brand communications agency Guerilla to revolutionise their global brand strategy and visual identity.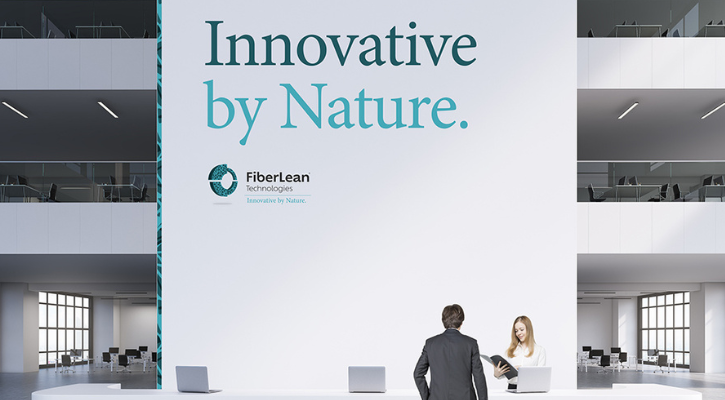 As FiberLean's innovative and sustainable range of MFC applications continues to expand and create products in sectors such as making paper and packaging, that allows the significant reduction of wood fibres needed to create the same material. The partnership with Guerilla is designed to catalyse FiberLean's transformation towards commercialising cutting-edge MFC solutions, including reinforcement of ceiling tiles and launching food coating.
Frederic Naves, Technical Sales Manager & Digital Marketing Manager, exclaimed, "We needed an experienced marketing partner who could understand the intricacies of our business and market and deliver a highly strategic and all-encompassing branding solution on a global level. Guerilla has created a unique game-changing brand platform that is transforming our internal culture and external awareness, positioning FiberLean as the global MFC market leader."
Guerilla's award-winning 'brand builder' process has been employed to develop an exciting new brand platform, seamlessly integrated into the overarching FiberLean business strategy. Starting with the extensive research at FiberLean's headquarters in Cornwall, through to the creation of a new brand identity, the project has been a thrilling and intensive process. Designed to differentiate FiberLean from its competitors and clearly reflect the business intelligent approach to innovation the new brand uses natural images ranging from a spider web to tree roots to reinforce FiberLean's environmental credentials.
James Allen, Managing Director of Guerilla, expressed excitement, "Creating a new brand strategy that works on a global level is always thrilling. Collaborating closely with the FiberLean team has been a stimulating and rewarding process that has delivered great results. It was important that the new brand conveyed the sustainability and connective properties that FiberLean and their MFC solutions have to offer on a global level".
With the recent launch of the new FiberLean brand campaign, including a state-of-the-art website and digital strategy, Guerilla's team is now focused on supporting FiberLean's global marketing strategy and execution. Stay tuned for more exciting developments from Guerilla and FiberLean.