Osbit, the UK-based specialist offshore equipment supplier, has successfully delivered a state-of-the-art subsea trenching vehicle to Luxembourg vessel operator, Jan De Nul.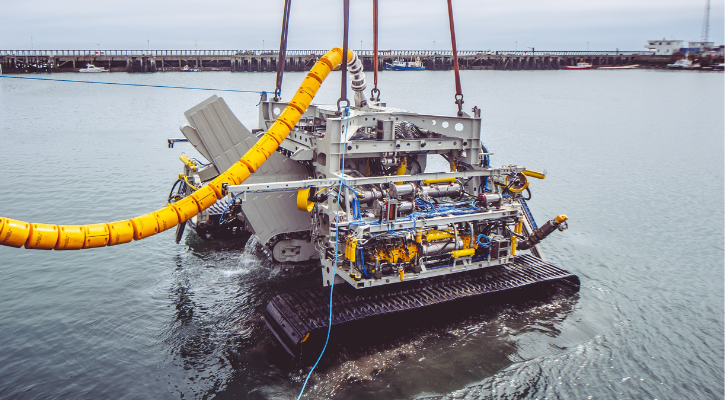 The high-powered vehicle, named Swordfish, is a purpose-built cable burial tool for the efficient protection of subsea cables that will be used on current and future wind farm projects.
Swordfish is powered by 1200kW of subsea electrical power combination of direct drive and hydraulic distribution to provide operators with maximum versatility when applying power to bury cables in the ocean.
Boasting an array of cutting-edge features, Swordfish can be quickly reconfigured into a variety of settings, enabling the vehicle to tackle a wide variety of soil conditions found across planned windfarms and export routes.
A team of specialist Osbit engineers completed the detailed design, manufacture, assembly, and test of Swordfish in just over a year. The machine was delivered out of the company's assembly base at the Port of Blyth in Northumberland.
Following delivery to Jan De Nul, the subsea vehicle has been shipped to Belgium for mobilisation and installation.
Neil Harrison, Director at Osbit said: "Our focused team of skilled engineers have performed tremendously and really pulled together to produce a class-leading multi-purpose trenching vehicle in such a short space of time, despite ongoing global supply chain issues, and the hugely volatile market.
"Due to the growing complexity of offshore wind farm sites, installation companies need Osbit's specialist engineering skills more than ever, as the world transitions to using more clean energy sources. This new piece of equipment has excellent capabilities and has enabled Osbit to further strengthen our exports of specialist equipment to mainland Europe.
It has been great collaborating so closely with Jan De Nul Group throughout this project and to have, once again, utilised the skills of our fantastic supply chain, much of which is locally based. North East England remains a world-class hub for offshore engineering capability and we are very proud to be based here."Jan Van De Velde, Manager Newbuilding Department at Jan De Nul Group, continues: "The Swordfish makes the perfect addition to our existing fleet of trenching vehicles protecting the cables installed by our cable installation vessels. Thanks to its high power, Swordfish can bury the cables deeper and at higher progress rates. And thanks to its innovative mechanical chain cutting configuration Swordfish can also tackle more challenging soil conditions, including hard clays up to 400 kPa. The delivery of the Swordfish complements our Cable Installation Vessels Connector and Isaac Newton, arming Jan De Nul Group for the energy transition of tomorrow. We look back at a fruitful cooperation with Osbit Ltd. (UK) in completing this industry leading solution for cable burial projects."