A healthcare pioneer who has dedicated her life to the care and support of people both young and old has been recognised with a lifetime achievement award by the Entrepreneurs' Forum.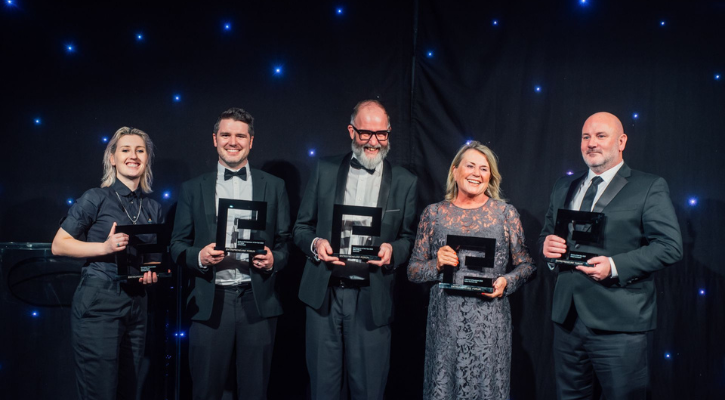 Helen McArdle CBE, founder of Helen McArdle Care, was among the business leaders honoured at this year's North East Entrepreneurial Awards which was held on Friday 7th October at Hilton Newcastle Gateshead.
She was acknowledged for her longstanding commitment to health and social care within the region and for her generous contributions to many worthy causes across the North East.
Accepting the award, Helen said, "My life has always been about making a difference, whether that's been through my care homes, nurseries or philanthropic work. It's an absolute honour to receive an award in recognition of this work from the Entrepreneurs' Forum.
"I have also been inspired to share the stage today alongside so many incredible like-minded entrepreneurs, celebrating in their success as they embark on their own exciting journey."
The black-tie awards ceremony celebrated entrepreneurs who are leading dynamic, innovative businesses and making a genuine change to the region. The evening was hosted by writer, comic, actor and radio presenter Alfie Joey.
Mike O'Brien, of Newcastle-based Opencast was named the 2022 Entrepreneur of the Year. Mike co-founded Opencast in 2012 and has grown the business into one of the largest tech companies in the North East with a team of over 400.
Opencast has been named in the GP Bullhound Top 100 list no less than five times in the award's nine years and is on track to become a future FTSE 250 company.
Tim Ward, founder of Stockton-based OPPORTUNI was named Scale-up Entrepreneur of the Year. Through OPPORTUNI, Tim has rebuilt the procurement ecosystem, helping to create a level playing field for SMEs.
Within five years, the business plans to redirect £225 billion per annum of government spend to small and medium-sized businesses (SMEs) across the UK, US and Europe.
The Emerging Talent Award was presented to Chloë Clover of Middlesbrough-based Wander Films.
A Forbes 30 Under 30 recipient, Chloe and partner Lou Tonner launched Wander Films while travelling Australia in 2018. They have since grown the company into a full-service video marketing agency and have plans to increase turnover by 50% in 2023.
The Mentor of the Year award was presented to Craig Huntingdon who, after being introduced to his mentees through his role as a Scaleup Partner at RTC North, is now giving back his time altruistically to help other North East business owners prosper.
Those who have worked with Craig praised his 'extensive knowledge and insight into a wide array of areas' and for showing 'genuine care and interest' in those he works with.
James Robson MBE, the Forum's chairman, said: "This year, we've celebrated some momentous occasions for the Forum, from our 20th anniversary to now our North East Entrepreneurial Award winners.
"At our black-tie awards, we acknowledge those entrepreneurs who are doing great things within our region, whether they're just starting on the journey or have shown a long-term commitment to the North East, such as our Lifetime Achievement winner Helen McArdle CBE.
"A fantastic entrepreneur and a generous individual, Helen is shaping a healthier future for those living in the North East. She has touched the lives of countless individuals and it's our honour to present her our Lifetime Achievement award for 2022.
"I'd like to personally congratulate Helen and our finalists on their incredible achievements. They are all brilliant examples of entrepreneurialism in the North East."
Helen opened her first care home in 1989 and grew Helen McArdle Care into the largest independent care provider in the UK, employing over 1,600 staff across 22 care homes in the North East before its sale in 2004.
That same year, she launched Kids 1st Day Nurseries and grew it into the UK's highest quality childcare provider before its acquisition by national childcare provider Busy Bees in 2015.
Active in the region's charitable sector, Helen has donated more than £10 million to local and international charities throughout her career while also funding critical age-related research and healthcare education within the North East.
Helen's philanthropic work includes a £2.5m donation to the University of Sunderland, the largest contribution ever received by the university, and a further £2.5m donation to Newcastle University, leading to the development of the Helen McArdle Atrium located within The Helix building on its Campus for Ageing and Vitality.
Most recently, following a £500,000 donation to Sunderland's Beacon of Light, she launched the Helen McArdle Health and Social Care Academy which will engage young people aged 16-19 and support them in acquiring the skills and knowledge needed to work in the care sector.
The awards were held at Hilton Newcastle Gateshead and supported by Ward Hadaway, the Malhotra Group, Brewin Dolphin, ION and British Business Bank.